2020 Tier A Information
---
---
In Divisional Soccer (U11, U12, U14, and U16), teams are organized in tiers to provide a more balanced competitive/skill development environment. Division A is a more competitive level of soccer, designed to provide an opportunity for more skilled players to play a more competitive schedule within the house league framework. Division B is for more recreational players, and those looking to develop the skills needed for the Division A program. Both tiers are still house league programs, with games on Saturday and one practice a week, with the possibility of a second if desired. All team members can expect to play at least half of each game. Tryouts will be held for the Division A teams in the fall, as outlined below. All other players who register in the spring will be assigned to a team, and those teams will be assigned to tiers once final numbers are known.
Player Selection Guidelines
For the 2020 season, one or more teams per age group will be selected, depending on overall numbers in the age group. Roster maximums for these teams will be as follows: U11 and U12 -- 14 players U14 and U16 -- 18 players.
All players in those divisions will be notified by email of the tryout criteria and schedule. Tryouts are open to all current KYSA players, plus any other players living within KYSA boundaries. Players will be asked to register ahead of time to help us determine numbers and plan sessions. A non-refundable tryout fee of $10 will be charged. Players are encouraged to attend all evaluation sessions in order to be properly assessed. Players must attend at least one of the tryouts to be considered for these teams. Tryouts will be run by the Whitecaps Technical Staff and potentially an independent panel of coaches. At the conclusion of these tryouts, the 2020 rosters of these teams will be selected, and roster spots may be reserved for final decisions in the spring. Candidates for those Spring spots will be invited to tryouts as required - it is the discretion of the KYSA Board of Executives to determine if Spring evaluation sessions are needed.
The following criteria will be used in choosing players for this team:
--soccer skills
--physical fitness
--understanding of the game
--coachability
--attitude/work ethic
--positional preferences (ex goalkeepers)
--commitment to the program (ie limited interference from other activities)
2020 Division A Tryout Schedule: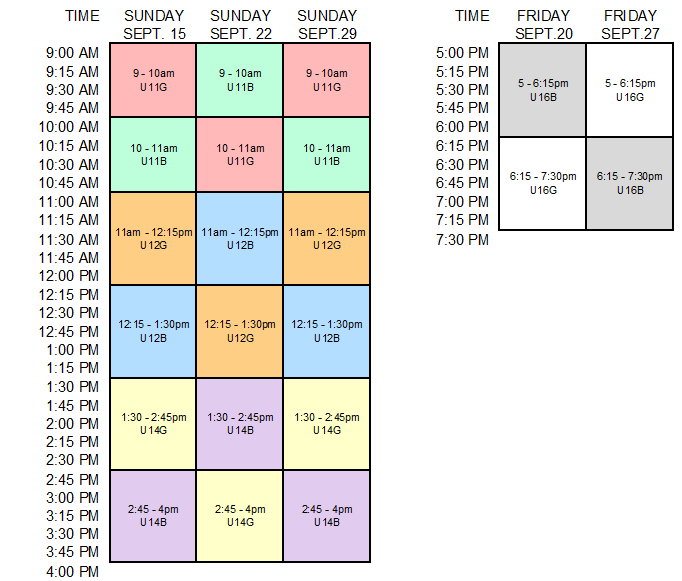 All evaluation sessions will be held at LILLOOET FIELD
To register, please click the following link: 2020 Tiering Evaluations