Fall Soccer is coming to KYSA!
---
---
With BC Soccer's recent announcement of Return to Play - Phase 2, KYSA is very excited to release a short Fall season to our membership!
This six week program will begin Sept 14th and will be game-based play - cohorts* of up to 50 players will participate in small-sided games once a week based on the following schedule (NOTE: There will be no session on Thanksgiving Monday and a make-up session has been added on October 26th):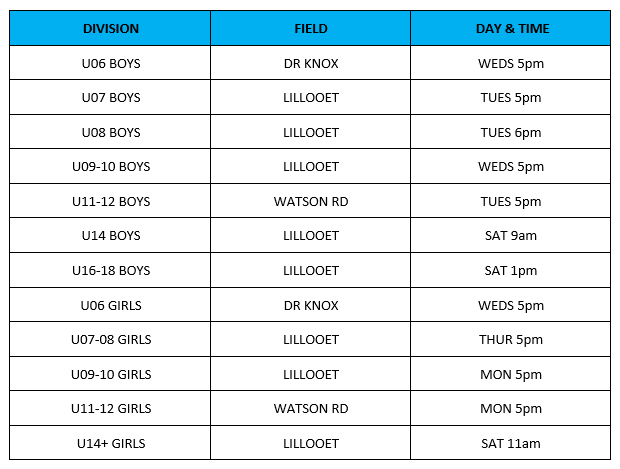 We only have a small window of time for our registration period, please go to
http://kysa.rampregistrations.com
to reserve your spot today. Cost of this program is $75 and is eligible for financial assistance programs for qualified players. A jersey will be provided but players will need to supply their own shorts, cleats and socks.
Every cohort will need 4 coaches - Coaches can provide coaching points during game play (stoppages will be permitted) and to share "refereeing" duty with the coach of the opposing team. If you are able to volunteer your time once a week, be sure to enter your name on the registration form in the space provided.
Parents may not enter the field at any time. Spectators are permitted but must be 5 yards away from the sideline, and may not cross the field during arrival and departure.
This program is reserved for KYSA members, but we will accept registrations from out-of-catchment players if there is space permitting. Please share this information with any friends that may be interested. Kelowna United/TOFC players are registered under those clubs with BC Soccer and cannot participate in this program.
Please email any questions to the Administrator at
kysagoblue@gmail.com
- we hope to see as many of our members as possible on the field this Fall!
*Some age divisions were combined to fill cohorts, based on players of similar size and skill level.